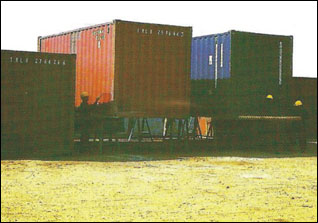 Greater Noida (Delhi)
Keeping pace with the rapidly surging economic needs of North and North-Western India, Jay Container Services' storage depot at Greater Noida(Delhi) was established in 1996 as its largest one yet. This fully-integrated depot is the first 'One-Stop-Shop' in Greater Noida for a complete range of container services that serve the needs of the industrial, construction and manufacturing sectors of Delhi and its surrounding states.
Spread over a 48,000 square meter area, the depot is located 6 km from the Dadri inland container terminal, 25 km from the Tughlakabad inland container depot and only 30 km from CFS Patparganj. Nearly 6,000 TEUs can be accommodated at the depot, and our highly-cost effective rates and exemplary services have earned the recognition of our Principals: Florens, Textainer, Blue Sky, CAI International and Triton International.
Depot Awards
Over the last decade, our depots have been awarded on multiple occasions by our principals, Florens and Textainer. Jay Container Services was presented with the Florens' Regional Recognition for Depot Excellence award in 2007, 2008 and 2012. In 2007, JCS was also awarded Textainer's Depot of the Year award in recognition of its outstanding service and support.